Downsize Your Home in Just 3 Easy Steps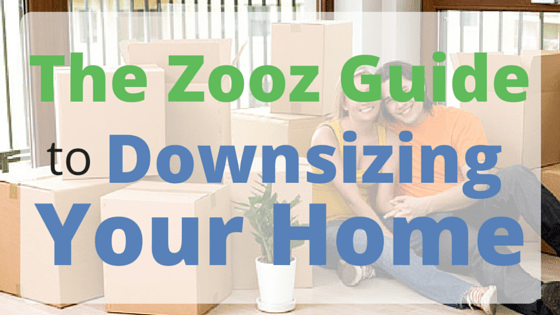 Moving is rarely an easy task. From organizing and labeling moving boxes, to hiring professional movers and packing services, juggling so many responsibilities on moving day can be an overwhelming experience.
For many, one of the most challenging relocations is downsizing from a home to an apartment. On top of decluttering every inch of your home to purging every unwanted item in sight, it may be difficult for you to decide what's worth taking and why.
This month, we gathered four easy ways you can prepare for your upcoming move:
The Professional Mover's Guide to Downsizing
Step 1: Can You Use It?
When downsizing your home, the first question you must ask yourself is, "Can I use this item at all?"
There may be items in your home that are broken, torn, or worn out. In other words, they're no good.
Why not throw them out? Chances are you no longer need ten different Chinese takeout menus or a broken stereo system. Save yourself the added stress of moving old junk and toss anything that no longer serves you. Better yet, make some extra cash by selling your lightly used items. Donate old clothes and furniture to your local Goodwill, Salvation Army, or homeless shelter.
Step 2: Is It Outdated?
The process of downsizing your home becomes easier when you know what you need to get rid of.
If you have any outdated clothing, electronics, or appliances you've been neglecting, you may want to get rid of them. If you haven't used it for the last two years, it is likely you may never use it again. Go ahead and throw it away.
Step 3: Do You Have Room for It?
Before you start packing, consider the dimensions of your new home.
At first it may seem like you'll have more space to pack because you have less furniture to move, but that is not always the case. It's important to take measures of your future home and decide what will and what will not fit. Create a floor plan of your next home in order to make the estimations right.
As you prepare for moving day, know when it is time to let go of belongings that are no longer of use to you.
It may be helpful to think of downsizing as a fresh start for a simpler life. Less clutter, more room to breathe. If you follow these three steps, we guarantee your move will be a whole lot easier for you and your family.
Local, Long Distance and Commercial Moving Services in Tucson, Arizona
Are you in the process of downsizing your home? If so, then you deserve professional Tucson movers you can trust.
At Zooz Moving, we understand that a move is a big project, whether you're moving down the block or halfway across the country.
Zooz Moving offers a wide variety of different moving services, from local and long distance residential moves, packing services, transportation, and commercial moves. With every move, we aim for 100% satisfaction guaranteed. Let Zooz Moving be your solution to a stress-free move.
Call Zooz Moving today and receive a free estimate on your next move! For more information on how we can service your next local, long distance, residential or commercial move, contact us at (520) 447-0900.