Although the answer is largely, "It depends," we can tell you this: local moves are typically charged by the hour while long distance moves (50 miles+) are charged by the distance covered and the volume transferred.
See the image below for average costs of many of our moving services: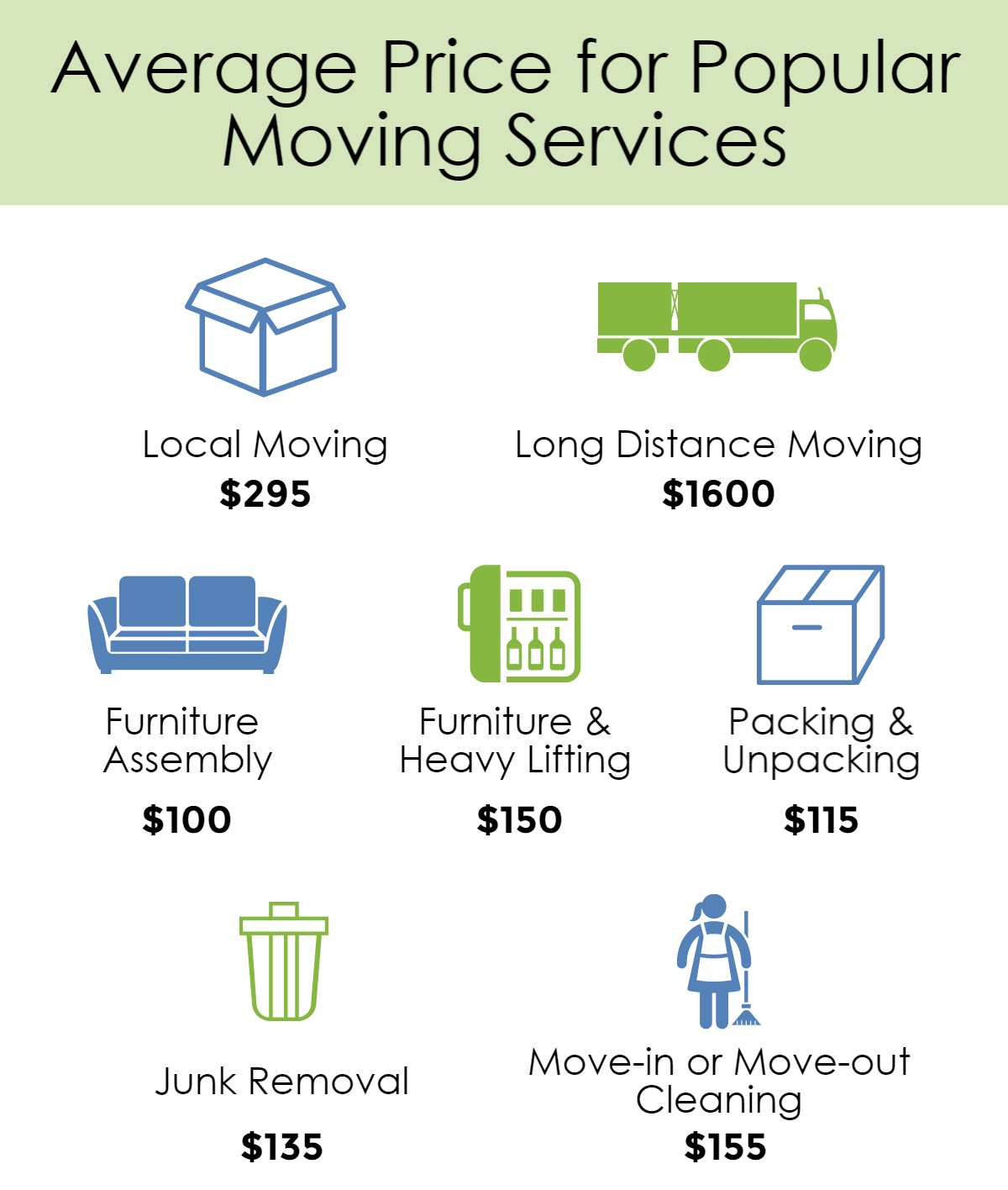 When you think about moving, what comes to mind? High stress, running out of boxes, never enough time, forgetting things, running out of tape, making a mess, etc.
Moves can be a major hassle, but they don't have to be. Professional moving companies like Zooz moving take time to train their movers to work quickly, carefully, and discreetly.
Absolutely not. Zooz move is here for your every moving need. We're happy to help you with packing or loading your boxes into a rental truck. We've perfected the art of moving, and we are here for you!
Don't have time to buy boxes and tape? Let Zooz know. Need to move a heavy piano, delicate artwork, or an expensive wine collection? Let Zooz know. Struggling to get a couch from one side of the house to the other? Let Zooz know. We want every move to be easy, so we will do whatever it takes!
Give us a call, and we will give you a free estimate on whatever services you need.
It's easy to forget this important step in the stress of a move. It's best to change your address a week or two before you move. It typically takes the post office at least a week to get your address updated. Changing your address is easy. You can simply go to your local post office and ask for a form that you stick in the mail free of charge or change it online. Changing your address online requires a small fee.
Again, the answer is "It depends." A local move will almost always be completed within a matter of hours. A long distance move will largely depend on distance, although we do offer express delivery to major cities in many neighboring states. However, here are some factors that typically play into the timing of your move: number of boxes, furniture size, if you have stairs, how close we are able to park our truck, how many loose, unpacked items there are, how many items need to be disassembled, etc.
Though Zooz Moving is based in Tucson, AZ, our company serves all of Arizona and offers a range of
long distance moving services
. We are happy to personalize our services to your needs.
An interstate move can be defined a few different ways:
A move that starts in one state and ends in another state.
A move that starts and ends in the same state, but goes through another state to get there.
A move that starts and ends in the same state, but goes through another country to get there.
A move that starts in one state and ends in another country.
Our 4 step formula for a perfect move ensures that we will be with you every step of the way. We give each move the time and care it needs. We make moving easy.

Preparation, Personalization, Privacy, and Pace are our 4 fool-proof steps. We will set you up with a personal moving consultant and prepare for your every step of your move. After years in the industry, we know every move is different. Your move will be personalized to your expectations and needs. Our movers will always work discreetly and respect your privacy. Lastly, our years of experience have allowed us to perfect the pace so we get the job done right.