Long Distance Moving Services
There are thousands of nationwide long distance movers out there, so why choose Zooz? With years of experience in the local moving industry, we are experts when it comes to personalizing moves. You won't be just another stop along the way.
Zooz Movers will provide you with a moving consultant that you can contact anytime during the duration of your move. We will take time to get to know you and your move. We know you can't be in two places at once, and we can help make this transition easier.
Personal Moving Consultant
When you call us to schedule a long distance move, we'll set you up right away with your personal moving consultant. From that moment on, you will have a direct connection to one-on-one communication.
Intrastate Moves
If you are moving anywhere in Arizona, Zooz is here for you. Instead of worrying about packing up boxes, renting a truck, and driving it across the state, let us handle it!
Interstate Moves
Moving to a new state can be especially tough. Your consultant will work with you to make sure each detail is planned and that the move will run without a glitch.
Express Delivery
We offer express delivery to most locations in neighboring states in less than 48 hours for no extra cost. See the map below for some of our most popular express locations.
Loading/unloading Rental Truck
If you've already rented a truck but need some extra hands to help you pack it just right or unload it quickly, call Zooz! We'll help with your moving needs no matter what they may be.
Full Packing Services
Schedule a time and date, and Zooz will take care of the rest. Your moving consultant will be available to answer all your questions along the way.

Express Delivery To Neighboring States

Our express delivery services are designed to provide the best experience when it comes to moving to another state. If you're moving in a week or even tomorrow, we can adjust to your needs and provide the help you need. Our 24-28 express delivery services will get you in and out, so you can move forward with your life.
We are ready when you are. We offer express delivery beyond Arizona to many surrounding states including TX, UT, CA, NV, NM and CO.
Check the map below to review all the cities which qualify for our express delivery services: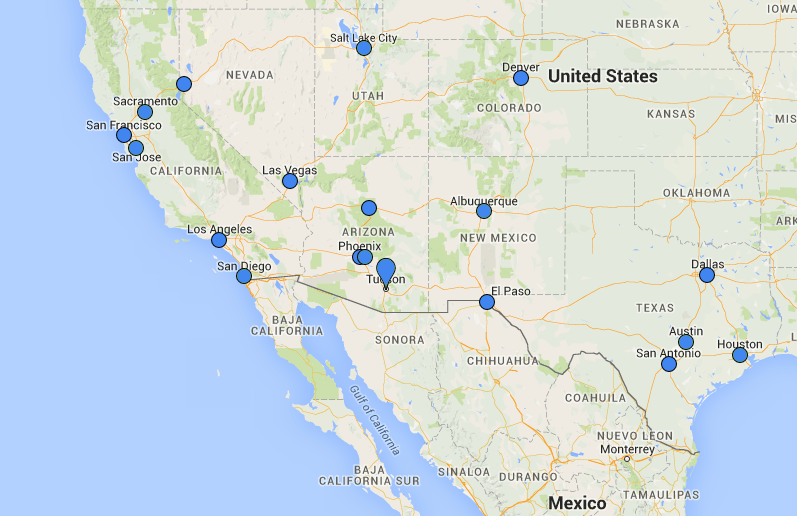 Our 4-step Formula
Every move is unique, but that doesn't mean that we'll give any move less effort than another. We will use our 4-step formula to execute a perfect move.
We'll work with you to plan and personalize every detail. We will treat you and your possessions with respect and privacy. Our professional team will work discreetly and carefully. Every Zooz move is 100% guaranteed.
Our Long Distance Movers Can Help You Move Any of the Following:
Homes
Apartments
Condos
Townhomes
Duplexes
Offices
Secure, dedicated long distance moves
With Zooz, the focus is you. Because we are a local company, we can make sure that your long-distance move happens exactly how you want it to. When you schedule a pickup and delivery date, we will be on time, 100% guaranteed.